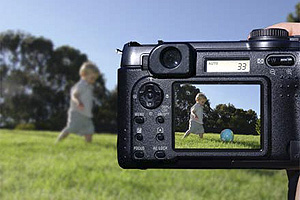 Anyone that uses a digital SLR or one of a list of cameras that can save photos in Camera raw format should have a quick look at the latest set of camera raw codecs for windows from Microsoft. If you shoot in raw or are thinking about it, then these codecs to put it simply allow the raw format photos to be seen in windows explorer (Which is not the case with an out of the box installation of windows.). For an explanation of raw format and its advantages, there are a multitude of explanations and tutorials available on the net. A quick explanation is given below.
Put Simply, Camera Raw format is the unedited image information taken from the sensor on the camera and saved in a file without any processing by the software or hardware within the camera itself. Think of it a bit like a digital negative.
When a digital camera takes a shot and produces a jpg image out the other side, the photo has gone through a process of translating the pixels on the sensor inside the camera, through the processor chip using a set of default options in regard to sharpness, colour, contrast and a myriad of other options to churn out a jpg which is then saved on your card on  the other side. During this translation the software within the camera makes a lot of assumptions about all of the options mentioned above before producing the final image.Some of these are settings that you can set in the camera itself, or even made by turning a switch to "Portrait", Landscape" "Hi colour" "Black and White" or something like that. Saving as a jpg of course means that there is then a trade-off in quality to minimise the size of the photo that is saved on the memory card. "jpg" is a lossy format which compresses and discards some information in the photo as a trade-off to save file space.
For 80% of people using a digital camera this is exactly what they want, most people want a photo that they can print out themselves or bring to the nearest developers and get a 6×4 snap developed without messing about with finicky settings.
BUT, and this is a big but, the other 20% will spend some time after taking the image to crop, darken, lighten, increase colour saturation or otherwise tweak the photo in some form of software like Photoshop, Adobe Darkroom or something similar before they finally print out exactly the final image that they want. These 20% should shoot in camera raw format if it is available. now while it does add another step to the digital darkroom work-flow, the unedited camera raw image is the purest form of original photo (digital negative) and allows you the greatest latitude for post processing in photo software, it gives you the most original information that the camera can give you.
The fact that the file has not been saved in jpg format means that there is no loss of image quality at all. you are getting the image as the sensor sees it before the camera makes any decision about how the final image should look. There will be a significant cost in storage space (Up to 3 times the size or bigger), you will fit less images on teh memory card but they are of the highest quality.  When you open these images up in your image editing software they do look duller than what you are probably used to, especially if you are new to camera raw format. The choice of how to process the final image is left 100% up to you, you now have to do the job of the camera chip before deciding on the final image and how it looks before you save it.
Another drawback to the camera raw format is that most software cannot read it by default, particularly windows in its various formats. Most better image editing software vendors have built up a series of plug-ins for their software to do the process of converting this information into a format usable within their program, but each one is different. Windows of course does not have this image viewing capability built in and camera manufacturers create new models every month with a possible change in raw format with each one. Image editing software manufacturers have to keep up with each new model and produce new plug-ins as it happens.
Microsoft have occasionally produced a set of codecs (coder-decoder software) to allow the various raw formats to be viewed in folders over the years but it has been sporadic at best (it was originally only available as a "Power-tool" download from the site). Earlier this year (July 2011) they churned out a specific freely available set for the list of cameras below.
This package is available in both 32-bit (MicrosoftCodecPack_x86.msi) and 64-bit (MicrosoftCodecPack_amd64.msi) versions.
The Microsoft Camera Codec Pack provides support for the following device formats:
Canon: EOS 1000D (EOS Kiss F in Japan and the EOS Rebel XS in North America), EOS 10D, EOS 1D Mk2, EOS 1D Mk3, EOS 1D Mk4, EOS 1D Mk2 N, EOS 1Ds Mk2, EOS 1Ds Mk3, EOS 20D, EOS 300D (the Kiss Digital in Japan and the Digital Rebel in North America) , EOS 30D, EOS 350D (the Canon EOS Kiss Digital N in Japan and EOS Digital Rebel XT in North America), EOS 400D (the Kiss Digital X in Japan and the Digital Rebel XTi in North America), EOS 40D, EOS 450D (EOS Kiss X2 in Japan and the EOS Rebel XSi in North America), EOS 500D (EOS Kiss X3 in Japan and the EOS Rebel T1i in North America), EOS 550D (EOS Kiss X4 in Japan, and as the EOS Rebel T2i in North America), EOS 50D, EOS 5D, EOS 5D Mk2, EOS 7D, EOS D30, EOS D60, G2, G3, G5, G6, G9, G10, G11, Pro1, S90
Nikon: D100, D1H, D200, D2H, D2Hs, D2X, D2Xs, D3, D3s, D300, D3000, D300s, D3X, D40, D40x, D50, D5000, D60, D70, D700, D70s, D80, D90, P6000
Sony: A100, A200, A230, A300, A330, A350, A380, A700, A850, A900, DSC-R1
Olympus: C7070, C8080, E1, E10, E20, E3, E30, E300, E330, E400, E410, E420, E450, E500, E510, E520, E620, EP1
Pentax (PEF formats only): K100D, K100D Super, K10D, K110D, K200D, K20D, K7, K-x, *ist D, *ist DL, *ist DS
Leica: Digilux 3, D-LUX4, M8, M9
Minolta: DiMage A1, DiMage A2, Maxxum 7D (Dynax 7D in Europe, α-7 Digital in Japan)
Epson: RD1
Panasonic: G1, GH1, GF1, LX3
Go here for the download: http://www.microsoft.com/download/en/details.aspx?id=26829